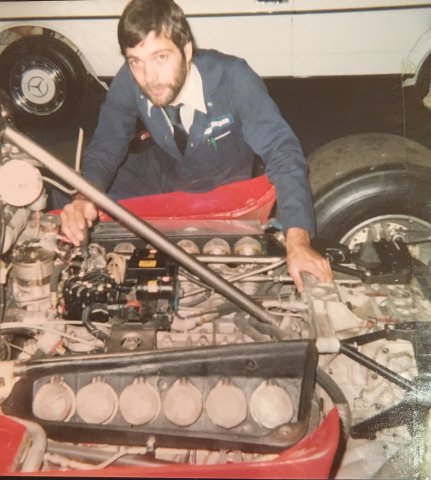 The mechanic lives and breathes Ferraris and is surrounded by exotic Italian sports cars at his Meltham garage Italia Autosport.
John is one of the country's most respected Ferrari experts. He is approaching his 5th decade of tuning, fixing and restoring supercars from across the UK.
His passion for Ferraris is not just limited to the workshop, he is also a top racing driver. He has notched a host of titles and trophies at tracks including the Nurburgring, Monza and Donington.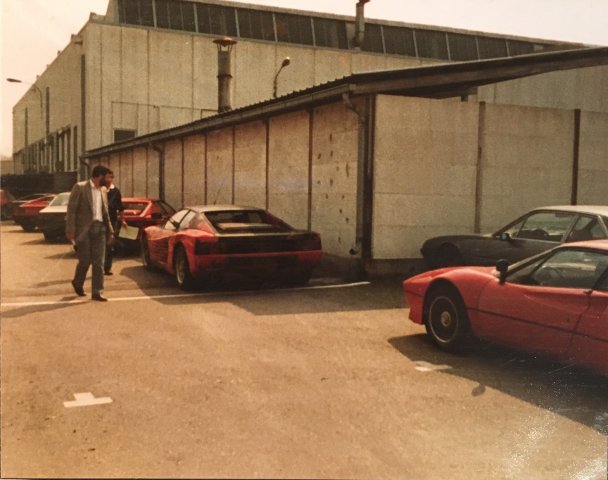 It's all a long cry from when the Huddersfield born engineer trained at Ramsden Technical College in the early 1970s.
In 1975, he got his first job at Huddersfield Garages at Outlane, and was lucky enough to get his hands on some of the first Ferraris in the North.
He recalled: "When a Ferrari came in to get its service I made sure I was around."
"I then became the man for Ferraris. In the 70s Ferrari was young in this country and I was young and I grew with it."
From there John's love of Ferraris grew, and after training at the Italian company's famous Maranello headquarters, he eventually launched his own business in 1991.
"This isn't a job, it's a way of life," he enthuses. "We are so passionate about what we do. It's just a magical thing; the noise, the smell, everything Ferrari stands for, it gets in your blood."
With customers coming from all over the UK and as far away as America, John puts the success of his business down to decades of experience and doing things the old fashioned way.
The skill levels expected at his garage are so high that he once had to dismiss a former Formula 1 mechanic who hadn't been up to his high standards.
"Today it's damn near impossible to get a Ferrari skilled man that will work to our level. This garage's success is because it's 30 or 40 years out of date. Our customers love it, they love the old fashioned way. Everything we do here is old school motor engineering. Only this week we've had a 1965 Lotus Cortina and I've rebuilt the differential on it. To speak to a guy at college at the moment he wouldn't know what we're talking about. He'd say "This is a throw away part [and] you put a new one in." We try to train our own people here and it's very difficult."
As well as being a highly coveted Ferrari expert John's racing career is also the envy of many a driving enthusiast.
He took home a double win on his debut and went on to win the title in his very first season.
But, as he readily admits, it all began by accident, when a client went on holiday and asked him to step in.
He said: "It came about as a bit of a mistake."
"I'm an engineer and I've held a racing license for many years because I build Ferrari race cars for clients. My clients come along and I build them a really successful car, test it, set it up and hand it back over to them. One chap said he was going away to America and suggested I race his car at the famous Spa circuit in Belgium. I went to Spa and I actually won both races over the weekend."
He added: "There are a lot of guys in motor racing with a lot of money and no talent but there are some with talent. There was one fella who was a really dirty player and I beat him. I do know how to set a motorcar up and that gives me a great edge. I always had a passion for motor racing and I'm just a very lucky chap to get the opportunity".
Having heard of his success, John's client let him continue racing and he went on to win the championship in his debut season.
The following year another client loaned him a 200mph Ferrari F40 supercar and he won that championship too.
Having won back-to-back titles John continued to race, winning a host of other honors and is still involved in racing today.
He said: "People kept lending me their motorcars and I kept winning championships, it was fantastic. The pinnacle was an F40 with massive horsepower; a proper racing thing and I won a British Championship against X220 Jaguars and big horsepower Porsches."
After more than three decades working on the world's most loved sports car brand, John is now considering the future of his business.
He said if he could find the right people he was confident Meltham could remain the UK's epicenter for Ferrari expertise long into the future.
"A Ferrari will never die," he said, "you can wreck it, it can be rusty, you restore it."
"We've got cars that have been restored and restored and can be for as long as we've got petrol. If we can train people to do this work it will go on forever."
7 SEP 2010 UPDATED, 12 JUL 2013 - BY NICK LAVIGUEUR
www.examiner.co.uk/news/west-yorkshire-news/ferrari-fan-living-dream-garage-4986336